With the possibilities available in print we are always challenged in how to display the myriad of printing that you the customer can choose from. Embossing which raises the surface in a desired shape or shapes, to matt lamination and spot gloss varnish are just two of the finishes that can often elevate a business card to show the quality and precision of your company. A printed letterhead can save on using the office colour printer toner cartridges whilst providing your customer the necessary company contact details.
We use recent projects to highlight and showcase our dedication to customer service, graphic design experience and quality of print. We enjoy completing each and every job whatever size it may be or complexity it has.
We are here to help you with all your printing needs.
A snip for hairdressers
A hairdressers approached us looking for a logo to be designed for their new salon. Working quickly, concepts were drawn up and upon development the logo was finalised. This was carried across the printed items of appointment cards, business cards, price lists and gift vouchers.
We can design and print any type of business card, appointment card or information card whatever your needs.
Bespoke Wedding Stationery
This beautiful Order of Service was part of a bespoke stationery package which was created for Ria and Tony's wedding at Balbirnie House. The design was soft and romantic, featuring a bright red love heart with the bride and groom's names printed in red to compliment the heart. Subtle grey text gave a softer feel to the design. This item was part of a bespoke package which included invitations, order of service, thank you cards and favour tags.
Gift Vouchers
We were asked to improve upon the quality of Lindores Abbey Distillery gift vouchers.
Using a soft touch matt laminate we enhanced the product with a wonderful texture then digital foiled the front of the cards with a copper foil to highlight and raise the Lindores Abbey Distillery branding to another level.
All the vouchers are sequentially numbered to maintain security and allow tracking.
Lindores Abbey Distillery can be contacted via Facebook https://www.facebook.com/LindoresDistillery/
On Twitter https://twitter.com/LindoresAbbey and their website http://lindoresabbeydistillery.com/
Personalisation
This personalised invite was designed to compliment the location of the party. The venue has eclectic decor with a mix of vintage and modern finds. The background dark wood compliments the dark colours in this venue and the use of contrasting white shows off the modern styling whilst giving detailed information. Our designers can create any style or theme for your personalised invitations ranging from birthday, wedding, save the date, thank you cards, christening, Christmas or party invites to name a few.
We also offer personalised photo gifts and our team of graphic designers can create personalised canvas prints, calendars, photobooks, wrapping paper with gift tags, banners, posters and garments.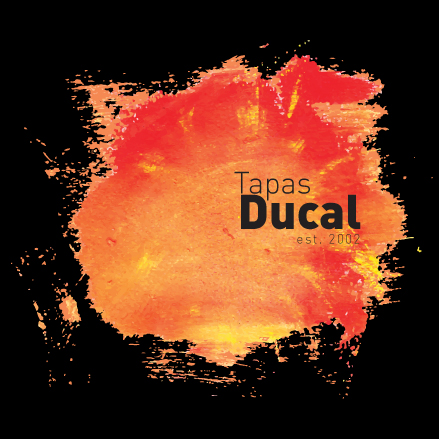 Design and Printed Menus
A client came to us looking for printed materials including menus to launch their new restaurant. Upon initial discussion we created their logo and then rolled this across their items, including gift vouchers, business cards, wine menus and their evening menus.
The menus are of a high quality with matt lamination to maintain a professional look and cleanliness even with being handled day in and day out. Our clien't customers have commented on the quality of print we have produced for them and are delighted with the consistent look of the brand across their media.
Presentation Folders
We were recently asked to produce a matt laminated presentation folder. Colour matching between different papers and cardstocks can be an issue as well as the effect matt laminating has on colours and tones.
Our graphic designers are experienced in advising on colour differences and in this instance we were challenged to match across different paper and card as close as possible.
Printed Cards and Vouchers
An existing client Kit & Caboodle from Newburgh (Facebook page) had recently opened a sister company in Perth – Underneath the Arches.  Together with the client our design team designed a quirky design to compliment their delightful vintage shop which sells painted & vintage furniture, beautiful household effects and handmade goods & gifts.
The heading used a font but needed further work to create a swirl that joined within the text and swirl. Following our client's brief our graphics design team selected complimentary colours to reflect the vintage look. The business cards and vouchers we all designed and printed within our building at Arran Road, Perth.
Digital Foil Business Cards
Highland Health Store came to us to highlight and emphasise their company details on their business cards. Whilst traditional methods of gold foil blocking onto an expensive coloured board would have achieved a suitable finish we suggested a full colour printed background, a lovely soft touch matt laminated card and a digital gold foil to finish.
Our customer was more than happy with the end results of the soft touch feel and the gleaming gold digital foil.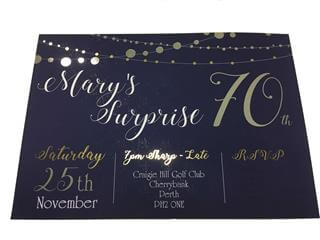 Surprise Birthday Party Invitations
We can also keep surprises when tasked to create birthday party invitations for any age. With this project there was also printed menu choices and variable data printed addressed envelopes.
We can print as simple or as complex as needed. From customer supplied Microsoft Word files through to designing from scratch the world is your oyster when it comes to invites. From the classic black text on a brilliant white card through to digital foiled card that has been duplexed to be thicker and unbendable we can do it all.
Tri Fold leaflets
A family run tearoom in the heart of Abernethy, Perthshire, contacted our design team for an eye catching leaflet. The brief for this leaflet was to create a visually pleasing leaflet with some text, but with the main intention to show the styling of the interior. The owner knew how important having the right quality of photographs were to 'show off' their delightful teamroom. A professional photographer was hired and our designers were able to select from a disc of photographs, imagery that complimented the styling and text. We had previously created business cards and utilised the teapots and teacups in the background. Our customer was pleased with the quality of the leaflet printing too.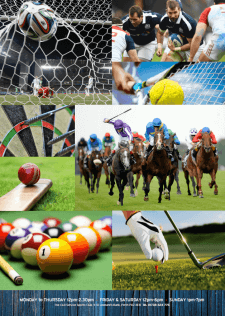 Full Colour Menus
With the use of full colour printing these days allowing our graphic designer's creative juices to flow can spruce up any project. With the Civil Service Sports Club we helped bring meny of the sports to life in the action shots on the reverse of the menu whilst managing to layout the menu as required on the front.
Fabric Backdrops
When you are displaying your company at an exhibition why not get a fabric backdrop with aluminium tubular frame.
With two people it is easy to put together and as you can see even without the frame in the photograph you can be leader of the pack.
Various sizes of backdrop can add that certain 'je ne sais quoi'. Roller banners or pop up banners can complement with up to date information.
Our customer Outbound in Africa
is certainly roaring with pride to book experience of a lifetime for you.